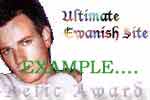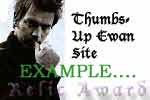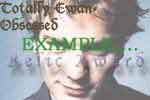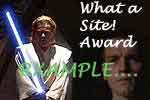 Here is the place you can win an award from me! I've noticed there are tons of Ewan sites out there that definetly deserve recognition as spectacular websites. Above are three examples of my awards (the ones you recieve will be missing the green "example" and will be of MUCH better quality). I've also got a True Bohemian Five Star Site award for all those who possess Moulin Rouge sites!! If you would like one of these, or have another idea for an award, e-mail me! RULES:
You must have a website.
The site must have something to do with Ewan or his movies.
A majority of the pictures must be any-age acceptable.
~The End